Patience, fear management, looking for opportunities in times of crisis.
These are just few of my weapons in protecting my money in the stock market during the pandemic.
But Did You Know…
I was mocked, pinagtawanan, dahil sa hawak kong stock during the Enhanced Community Quarantine.
Because of that…
kinabahan din ako and doubted myself whether tama ba ang naging decision ko to buy this stock and keep it kahit na bumagsak ang price nya.
But now, after the lifting of the Enhanced Community Quarantine in Manila, I am smiling for keeping it anyway.
Why? 
1. I was able to receive dividends from MPI sa kasagsagan ng ECQ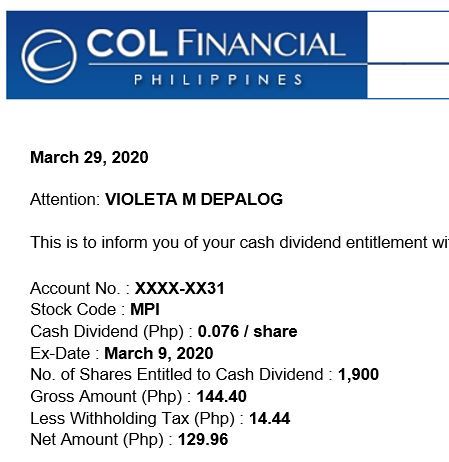 2. I was able to gain 24.53% or 11,015.96 Pesos pagkatapos ma-lift na ang ECQ

What Did I Do?
How Did I Make My Money Grow to 24.53 percent or gain 11,015.96 Pesos even If There is a Crisis?
Do you want to know?
Sige, let me share them with you. Promise, they are simple and easy to do.
I Did Not Panic
I understand that every crisis like COVID 19 has an end if a crisis ends, traders/investors will be enthusiastic again to buy stocks which will push the price to go up again.
2. I Did Not sell My Stocks At Loss
Knowing the company's fundamentals and understanding that it is undervalued, I bought more shares.
By buying more stocks sa panahon na mura pa sila, this gives me an opportunity to accumulate more stocks at a cheaper price.
3. I Waited Patiently
Evidently, soon after Manila transitioned to General Community Quarantine, nag-umpisang tumaas muli ang stock price ng maraming stocks including my pick.
After checking the stock chart, I sold my stock with a gain of 24.53 percent or 11,015.96 Pesos to keep my gains and use it to buy another stock.
Is It luck? 
Siguro, but the most important thing to remember is good luck is difficult to achieve without proper mindset and knowledge.
Pero Please Wait…
I am NOT telling you to go and buy the stock that I have mentioned here right away.
I am sharing this with you NOT as a form of recommendation but a reminder about the importance of patience, fear management, and seeking opportunities in crisis.
Natutunan ko sa experience na ito na hindi dapat basta basta nakikinig sa ingay sa paligid.
See…
What if I listened to those who were ridiculing me?
What if I entertained my fears?
What if I sold my stock at loss during the ECQ when my stocks in my portfolio were all red without checking its fundamentals?
With this experience, mas lalo kong naintindihan ang importance ng right attitude and enough knowledge in growing our money in the stock market.
How about you, would you like to develop the right attitude and accumulate enough knowledge that you can also use in your stock investing/trading?
Keep it up, wag sumuko. 
In case you find stocks overwhelming, go back to the basics, and start from step 1. 
There are many materials that you can find online and offline to help you learn more about stocks investing.
One of them is the Teacher's Guide To Stock Market Investing and My Stock Market Notes that you can download for free from www.isavenvestify.com
You can get a copy by filling in the form below.
——
P.S.1. If you are blessed by this post, share the blessing also to your loved ones and friends by sharing this post to them. 
P.S.2. I am inviting you to visit and like our Facebook Page www.facebook.com/isavenvestify1/