I just made 43,421.42 Pesos in one week in the stock market even if I was busy working.
May this post inspire you.
I just hit my target gain.
At the beginning of this year, one of my goals is to make an average gain of 40,000 Pesos a week in the stock market.
I even wrote it on my goal board.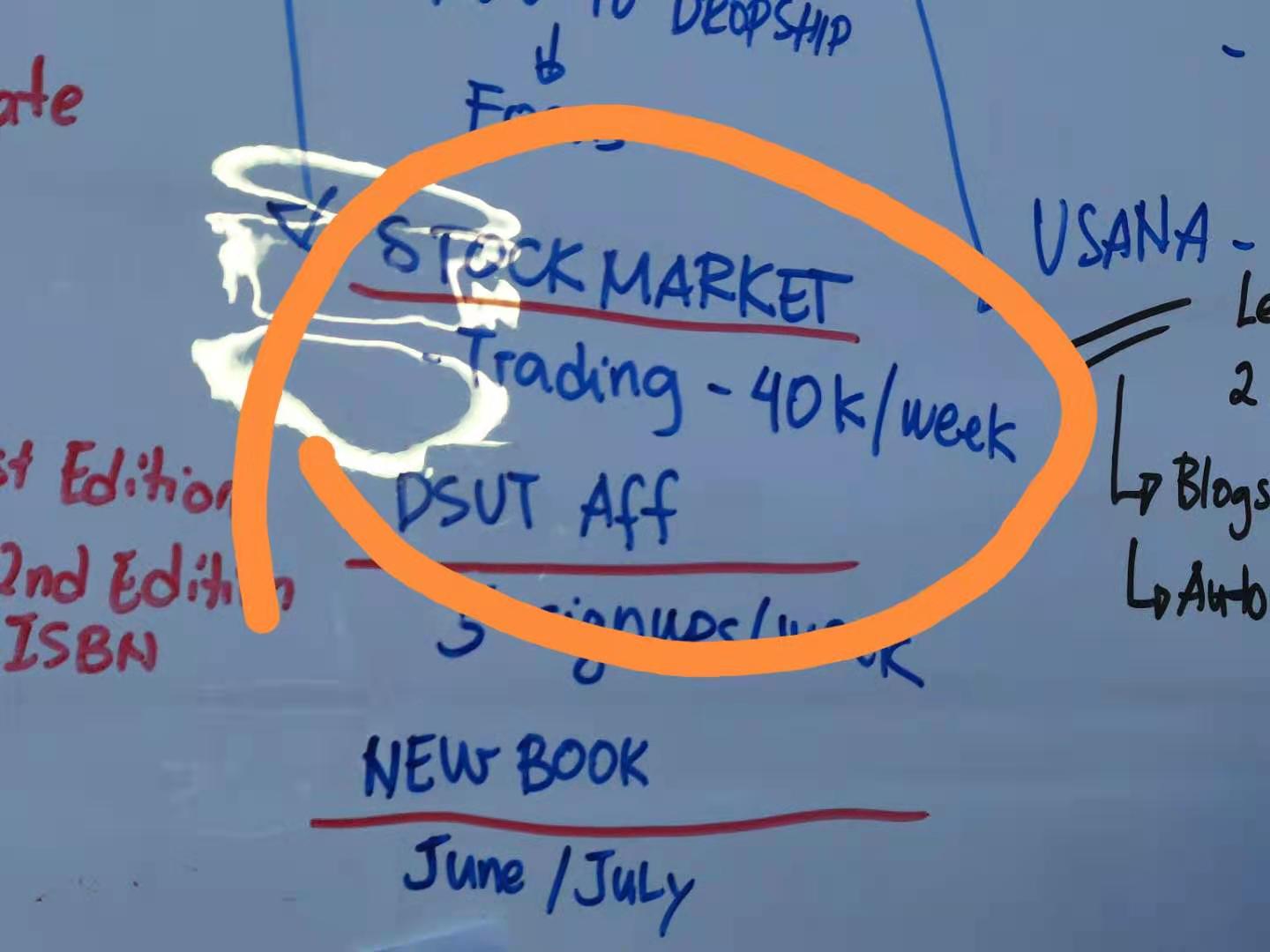 On the second week of 2021, nangyari nga.
I could not believe it myself.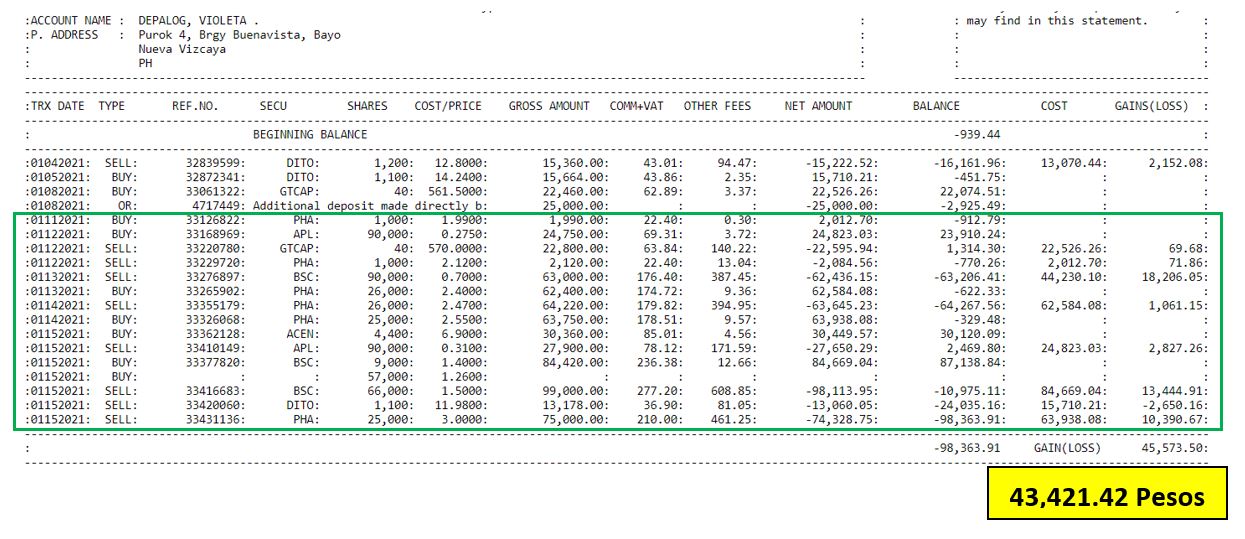 How did this happen?
What I remember was after writing that goal on the board, I started to get more serious in developing my skills.
Even more serious that I unawarely named my student STOCK while I was seated at the back of the classroom marking his oral presentation. 🙂
I was just telling my friend how important setting a goal is because it gives you focus and motivation.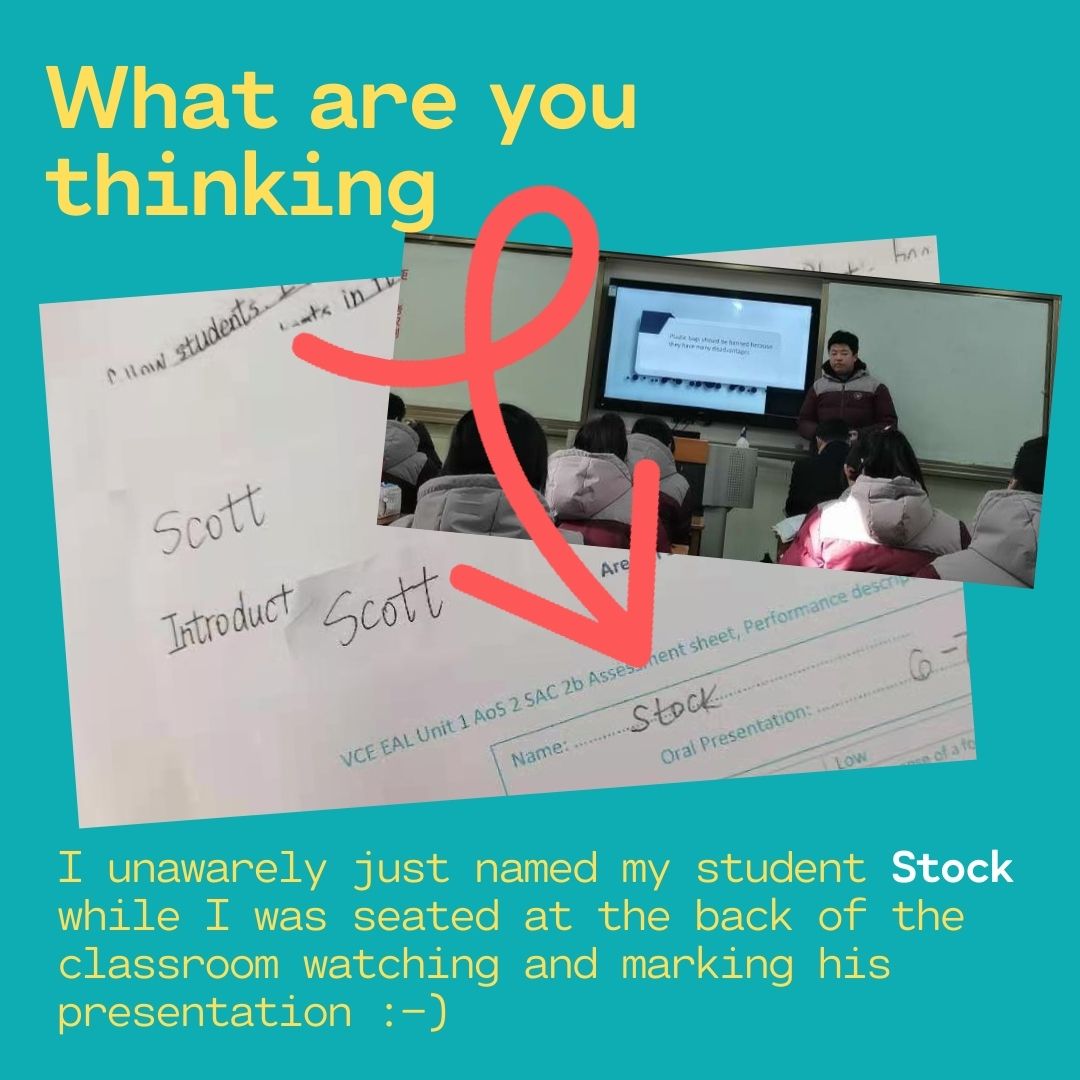 By the way, earning money in the stock market is a happy thing.
But remember that before you earn, you must learn.Paano ng aba ako kumikita sa stock market?
You must watch this YouTube videos to discover how.
In these videos, you will discover my 2 ways of earning money in the stock market.
However, I earned 43,421.42 Pesos gains in the stock market last week using my 3rd way that I gradually discovered after investing/trading in the stock market for 7 years.
Third Way of Earning Money From The Stock Market
Ito yung tinatawag nila na Buy High Sell Higher (BHSH)
I look for a stock in an uptrend momentum or yung mga stocks na patuloy ang malakas na pagtaas ng price nya.
Then I buy it at a high price tapos I sell it at a higher price.
Gaano ka higher?
Dipende sa na-set mong target.
For me, I sometimes set it at 3:1 reward ratio
Most of the time din, kapag nakita ko na pahina na ang momentum, or starting na ang mga indicators to show ng possibleng pagbaba ng price, binebenta ko na.
Alam ko ba agad ito when I started investing in the stock market?
Of course not.
In my investing, I did not know what P/E ratio, PEG ratio, ROE…
Para lang silang foreign language to me.
In my trading, ni hindi ko alam kung ano ang ibig sabihin ng indicator, support resistance, MACD, 3:1 reward ratio…It took me time, money, energy to learn, and courage to apply what I learned.
Did I know what to do when I started investing in the stock market.
Nope.
But how I was able to reach my goal and earned more than 40K in 1 week?
Again, answer is patience, constant learning and practice. 
Can you do it too?
Absolutely. 
The questions is when are you going to start? 
If you know how to read and if you are willing to learn, you can too.
Skills are learnable naman.
Kahit nga yung mga magagaling na investors at traders, they also invested time, money and effort on themselves to develop the skills na ginagamit nila ngayon.
I understand that you are busy and have no time to watch the market dahil fulltime sa work because I am, too.
But see, there are 3 ways to earn in the stock market.
The first 2 are in my YouTube videos and the 3rd one, yun nga yung ginawa ko last week.
There are 2 ways as well to make your money grow in the stock market.
Either by long term investing or short term trading.
There are different ways to earn money in the stock market that can fit your lifestyle, your needs, and even your risk appetite.
I know it can be scary but if you prepare yourself by knowing what's out there and how you can possibly manage and protect your hard earned money, soon enough you will see yourself earning from stocks.
Allow me to end this post with the powerful question from one of my coaches.
Sabi ng isa sa mga coaches ko "What will you be telling your child when he asks, Mama/Papa why are we poor?"
Will you be proud daw ba saying "Eh, kasi anak nakatkot ako at tinamad akong mag-aral ng mga opportunities to make us wealthy".
Are you willing to face your fear, start preparing yourself, and invest in the stock market?
——–
P.S.1. If you are blessed by this post, share the blessing also to your loved ones and friends by sharing this post to them. 
P.S.2. I am inviting you to visit and join us in our Facebook  Group https://www.facebook.com/groups/isavenvestify
P.S.3. If you also want to learn how to invest in the stock market, get your FREE ebook that teaches how by filling in the form below