Dear Aspiring Stock Trader,
Kahapon I introduced to you my friend EMARoon.
Today, I would like you to meet my other companion in my trading journey.
Please meet…MR Ali
Kamag-anak yata siya ni Muhammad Ali, kasi simula nung nakilala ko si MR Ali, atleast hindi na puro suntok sa buwan ang mga choices at decisions ko sa trading.
Excited ka na bang makilala kung sino si MR Ali?
Cge hindi na natin patatagalin pa.
Here it is…MR Ali
M for  MACD
R for RSI
Ali for Alligator
So, si MR Ali ay combination ng 3 indicators that complement each other para mas maging malinaw ang entry (when to buy) and exit (when to sell) point ko.
Stock Trading Notes Using MACD, RSI, Alligator
Let me share with you my notes on MPI sometime in November para mas makita natin how exactly can MR Ali help.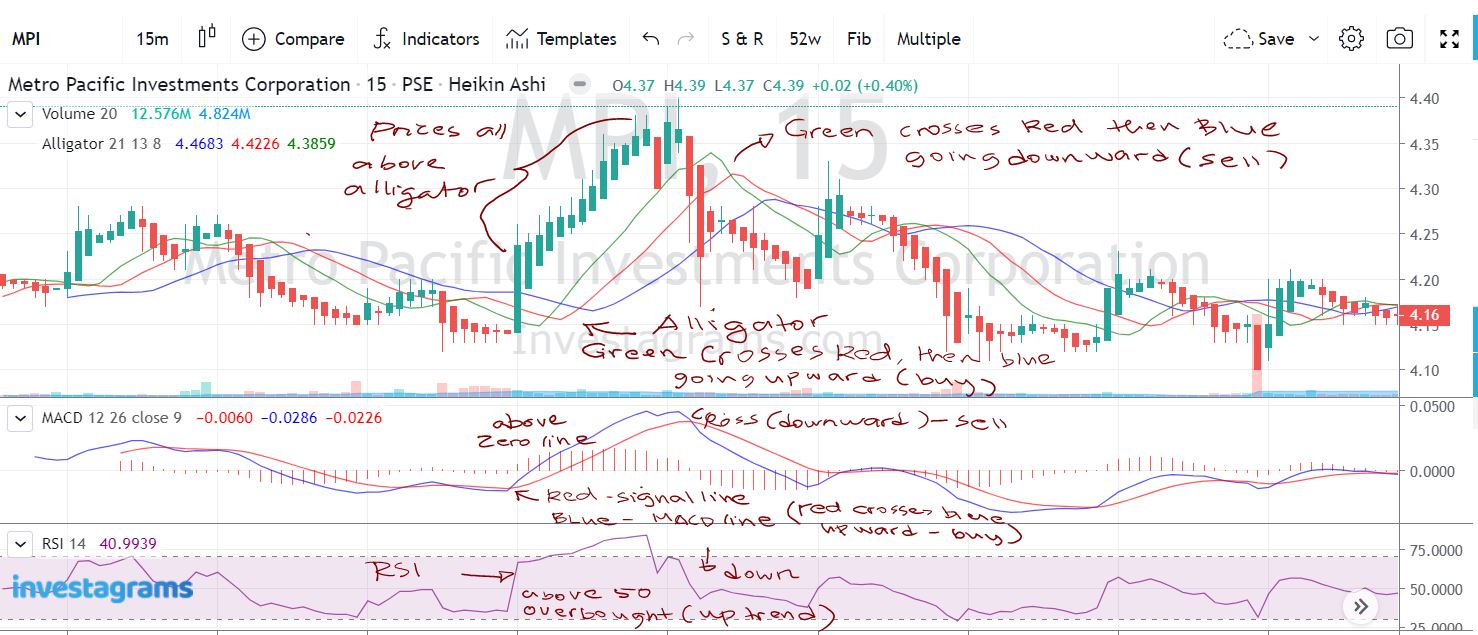 Let's begin with MACD
Merong 2 lines tayo dito na babantayan:
red (signal line – 12 EMA)
and blue (MACD line – 26 EMA)
Then ang dalawang lines na ito ay parehong nag-ko-cross lang pataas pababa sa zero line.
Nag-ko-cross din ang blue and red line above or under each other, sa itaas or ibaba ng zero line.
When the blue line crosses above the red line, lalo na above the zero line, I see this as a buy signal.
Then, when the blue line crosses under the red line, I see this as a sell signal.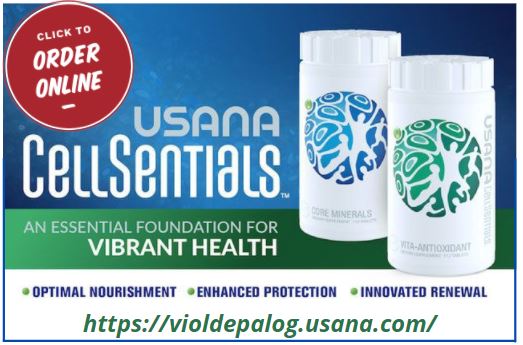 Si RSI naman
I usually use RSI to see if the stock is overbought-maraming bumibili or oversold-maraming nagbebenta.
Kapag nasa mga 70 na sya, that is to say overbought na sya, sikat na sya 🙂 in demand.
Kapag nasa mga 30 na sa, that is to say oversold na sya, laos na sya 🙂 mura na.
I noticed that when RSI is near 70, patuloy din ang pagtaas ng price.
And when the RSI is near 30, patuloy din ang pagbaba ng price.
I use the movement of RSI to validate the buy at sell signals ni MACD.
This is how i interpret them.
If MACD shows a buy signal, RSI should be near 70
If MACD shows a sell signal, RSI should be falling downward away from 70
Si Alligator naman
Meron syang tatlong line representing the jaw, lip, and teeth ng isang alligator.
Green line – lip
Red line – teeth
Blue line – jaw
It's like kapag nagutom na si alligator, magbubukas ang bunganga nya para kumain.
When eating, the lip (green line) crosses above the teeth (red line) to bite, then crosses above the jaw (blue line) to close its mouth, this is a buy signal for me.
And similarly, kapag magpapahinga si alligator at nabusog na, magcross ulit si green line with red line but this time cross under sya, papailalim si green kay red.
Then continuously crossing under the blue line.
This gives me a signal na magpupullback muna ang market or bababa muna ang price.
With these 3, MACD, RSI, and Alligator… if they all give me similar signals, mas confident ako sa suntok na bibitawan ko, I mean sa buying and selling decision ko.
On the other and, if any of them if is giving no signal or opposite signal while the other 2 are showing signs, medyo mag-aalangan ako.
And if there is hesitation and uncertainty, I try my best not to make a trade.
Otherwise, it's gambling.
This month I asked MR Ali to help me again in trading GTCAP and MR Ali showed me this.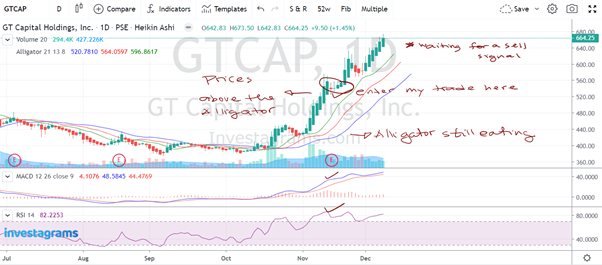 Although I entered bit late dahil wala munang Buying Power, MR Ali is still working for me.
Please allow me to share a screen shot of my GTCAP shares as it closes at 699 Pesos per share today.

There you go, I hope you had a fun time getting to know MR Ali and sana this email inspires you to keep learning and not to give up on stocks investing.
Do not give up on it because this works.
In my next email, I will be sharing what I discovered in my journey on how To Minimize Loss When Buying A High Flying Stock.
To Your Better Tomorrow,
VIOLETA "MR Ali" MAINGPIS DEPALOG

P.S.1 If you haven't received my first 3 emails, you can find them on the link below.
P.S.4. If you also want to learn how to invest in the stock market, get your FREE ebook that teaches how by filling in the form below