Hi Aspiring Stock Trader,
This will be my third email regarding my Stock Market Journey 2020 Review.
I hope I am making some sense in your stock market journey.
I realized that you may not received my first 2 emails.
In case you missed it, I will be providing the access links at the end of this email.
"You will never know unless you tried and experience it."
Naniniwala ka ba dun? Although meron yung sinasabi na "putting your feet in one's shoe", iba pa rin yung directly na maexperience mo ang isang bagay.
Kaya, I reasonably agree with it.
I used to be afraid of short-term investing or active trading because I fear to lose my hard-earned money instantly.
Kaya for a very long time, I stick to long-term active investing.
But I came to a point na kailangan kong i-overcome yung fear ko.
I am not saying na I will throw away long term investing, andyan pa rin yan, I am still a strong believer of the power of time and consistency.
What I am trying to say is it's time to explore additional opportunities to grow my money in the stock market.
Kaya, gradually… I embrace the idea of short-term investing specifically day trading.

This started on the 2nd quarter of this year when most of us were just home bound.
At first, I thought it will be simpler for me if I will just use 1 indicator.
But I have learned that using a single indicator/oscillator is not enough dahil it might also give me a false signal.
Kaya naman, I've use many of these trading tools at the same time. Pero, mas lalo lang akong nalito.
Halos hindi ko na mabasa kung ano yung nasa chart dahil, nag-ooverlap na yung mga naka-plot na indicators.
I discovered na naman na to be more effective, I have to use fewer.
I also learned that more may not always mean better, but actually less is more.
But I have to be careful in choosing what to use dahil although maraming indicators/oscillators na pwedeng gamitin to understand the movement of the stock, may mga indicators that are repetitive, and may mga indicators din that compliment each other.
To make it less complicated and less overwhelming for me, I did many of my trades with EMAroon.
I decided to try combining EMA (Exponential Moving Average) + Aroon
Kaya nagkaroon ako ng EMAroon.
Please allow me to share my note on October 6, 2020.
It happened na National Holiday ng China, kaya wala akong pasok. Another opportunity for me to day trade.
Here, I traded with EMAroon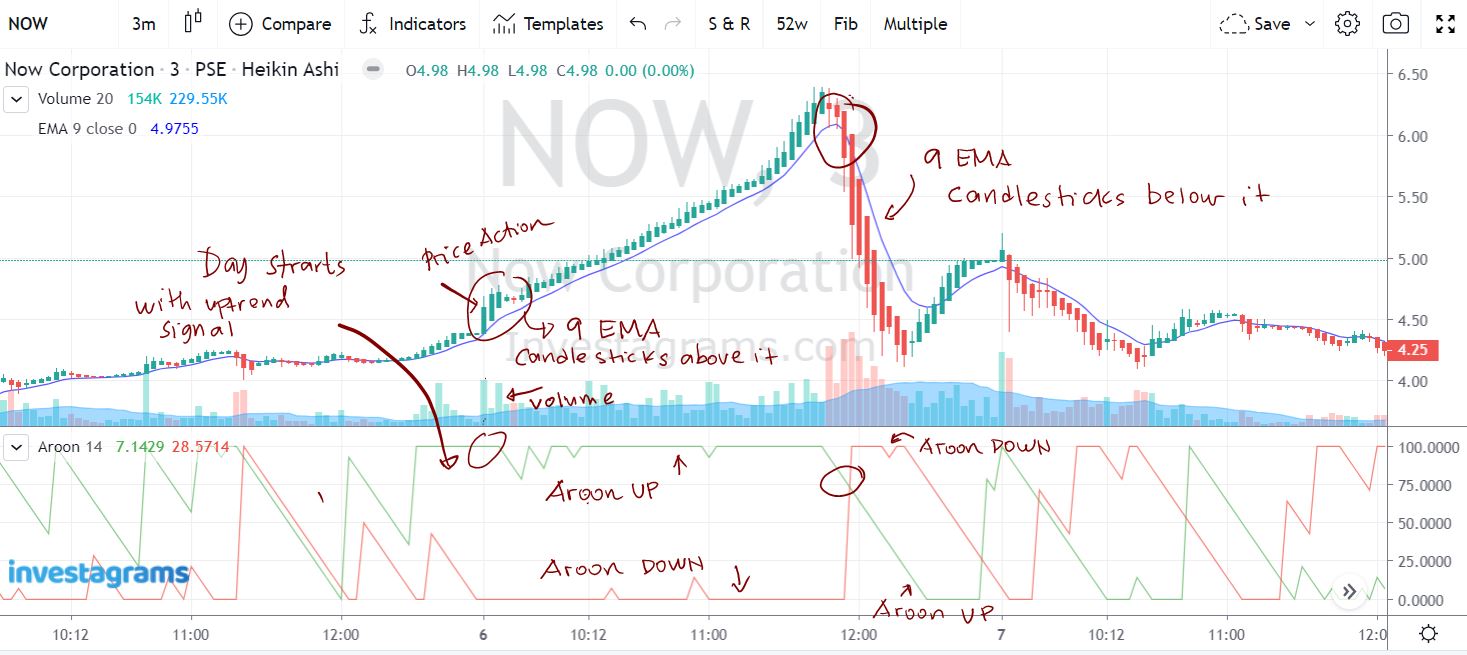 I used the EMA as my support and resistance signal.
When the candlestick is above the EMA line, it gives me a signal na mataas ang price ng stock.
Then, when the candlestick goes below the EMA line, sign naman ito na mababa ang price.
Yung Aroon naman ay isang indicator na nagpapakita ng malakas na trend ng stock. You can set the color of the lines according to your preference.
For me, mas prefer ko ang green for Aroon up, and red for Aroon down.
Kapag yung green line (Aroon Up) ay nasa itaas, it signals me na magkakaroon ng strong up trend.
Kung magkakapalit naman sila, at yung red (Aroon down) naman ang pumaitaas, it signals me nag magkakaroon ng down trend.
Here, I saw Aroon up is on top, then candlestick is above the 9 EMA, idagdag ko pa yung malakas na volume at ang mahabang candlestick showing me a strong price action.
This gives me confidence to buy NOW on that day.
Then towards 12 noon, nagkaroon ng cross over ang Aroon Up and Aroon Down, showing a change of trend, then pumailalim na rin ang candlestick sa EMA line.
This was my signal to sell my position or my stock.
Kaya naibenta ko, before the market closes at 1PM.
With these 2 tools, EMA and Aroon (EMAroon), I was able to understand the movement of my preferred stock of the day.
I was able to keep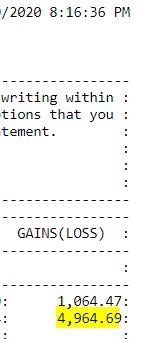 I hope my review today gives you more idea in trading stocks.
Tulad ng anything new lalo na pagdating sa pagdevelop ng skills at strategies, it's not easy but, it can be doable and less complicated.
Like long-term investing, narealized ko na short term investing can also be fun and less nose bleed basta't patient and determined kang matuto.
With proper attitude and enough skills, kaya.
Someone once commented on my post na kailangan ko raw ng MATH for Investment para makapag-invest sa stocks, but if you are not good at Math katulad ko, nangangamote, it's OK.
I am not good at Math, but I can read.
If you can read as well, kaya mo rin ito.
Tomorrow, I will let you meet MR Ali
To Your Better Tomorrow,
VIOLETA "EMARoon" MAINGPIS DEPALOG

P.S. 1 If you haven't received my first 2 emails, you can find them on the link below.
Get Better 2021 Day 1: COVID, Lockdown and Stocks
Get Better 2021 Day 2: Tested Trading Strategies
P.S.2 If you are blessed by this post, share the blessing also to your loved ones and friends by sharing this post to them. 
P.S.3 I am inviting you to visit and join us in our Facebook  Group https://www.facebook.com/groups/isavenvestify