Dahil Friday na naman, last trading day of the week.
At dahil wala akong klase at exam day ng mga students namin, I have time to watch the market today ?And write this email for you.
Dear aspiring stock trader,
Toda Moon or To The Moon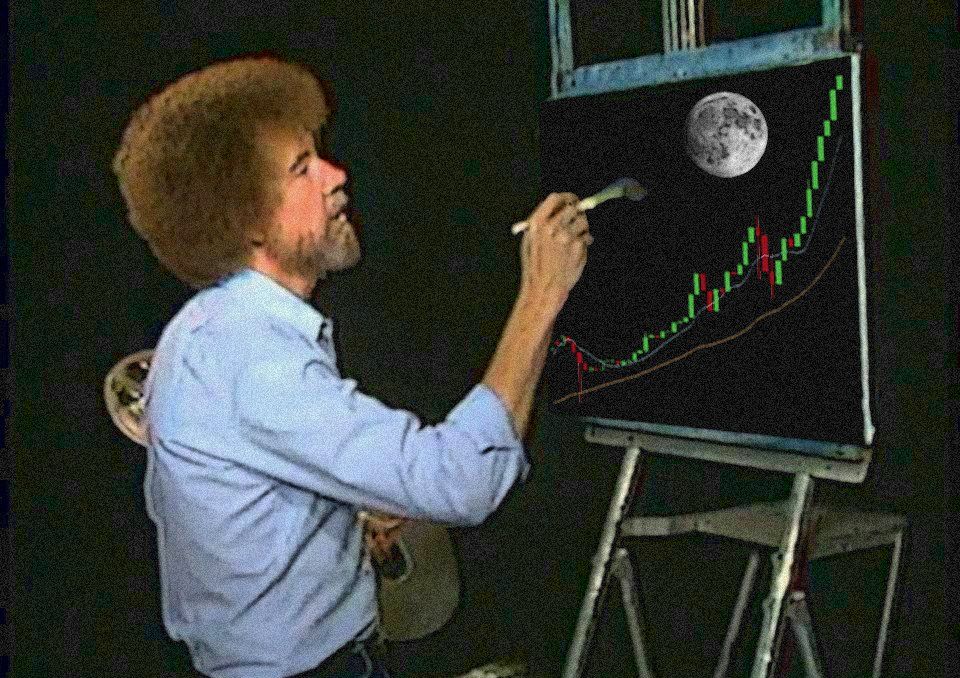 (Photo credits to https://www.reddit.com/)
Have you heard of this expression?
Naririnig at nababasa ko ito from other stock market short term investors when they are referring to stocks na biglang taas ang price at walang awat sa pagtaas na para bang abot hanggang langit o buwan.
Noong mga kalagitnaan na ng lockdown, although many stocks were still down, may mga stocks din na tumaas, and kapansin pansin na may ilang stocks ang nag "to da moon".
There were few stocks that were already overbought.
Lampas 70 or 80 na ang kanilang RSI but still people are buying them.
The question then for me coming from a perspective of a long-term active investor was…
"Is it bad to buy high flying stocks?"
Syempre natakot ako.
I am not used to this kind on investing style.
Should I avoid buying to da moon or high-flying stocks?
See…
Speculating stocks or buying high flying stocks can be very profitable in a short span of time.
You can buy when the market opens, then sell when it closes and make money.
You can buy at the beginning of the trading week and sell it on the last trading day of the week and make money.
You can buy it today and sell it after a month or few months and make money.
But…it can also be dangerous.Pwede rin kasing kabaliktaran ang magiging outcome.
Instead na you make money, you will lose money. Then it hit me…
The answer lies in my risk tolerance, knowledge, and trading skills.
I think I asked the wrong question, dapat pala ang tanong ko sa sarili ko was…
Am I Ready To Buy high Flying Stocks.
Hmmm….let me assess.
Risk tolerance…I can stomach it (I guess ?)
Knowledge…I think I did my homework
Trading skills…It's time to put it into practice.
I learn what I consider safe practices when buying high-flying stocks.
I say "safe" dahil they help me minimize my losses while maximizing my gains.
These are not new nor originally mine.
I also learned them from others who have gone thru the path na sinusundan ko ngayon.
Ok, Start na natin?
How To "Safely" Buy To Da Moon Stocks
Practice 1: Have a Plan on When to Sell
Ito yung lagi kong sinasabi na bago mo bilhin ang isang stocks, may target ka na in mind kung kelan mo ito ibebenta. I usually do this in 2 ways.
First, I set a target gain.Say, ibebenta ko sya once magkaroon ako ng 5% gain or 10% gain.
Second, I use specific indicators. Madalas kong ginagamit ang Support/Resistance, EMARoon, MR Ali
Practice 2: Lock In Your Gains
When I already have gains, if na reach ko yung target gain ko or naabot nya or nagbreakout sya sa indicators na ginagamit ko, I sell my stocks.
Then, I will look for another high-flying stocks or I will wait for another buying opportunity ng stocks na yun.
I do this because from my point of view since these are high-flying stocks, they are also very volatile.
Kung gaano kabiliis tumaas ang price nila, ganun din kabilis bumaba.
Practice 3: Do NOT Stick on ONE Stock Only
Ito yung sinasabi kong, wag ma-fall in love with your stocks.
Anything can happen in the stock market, and no one knows for sure if itong mga companies na ito can implement or execute their plans.
In my opinion, dahil mga baguhan pa sila, and they are still rising, they will have to go through many challenges pa.
And nobody is 100% sure if yung mga laid plans nila will materialize. Kaya, after riding on them, feel free na tumingin din sa iba.
Practice 4: Only Use the Money You can afford to lose
In short, limit the money you use in trading high-flying stocks.
For me, I set aside a small amount na pinapaikot ko in my short-term trading.
This is the money I use to buy high-flying stocks.
And this is the money I can afford to lose. Kapag nalugi, I can still sleep soundly at night.
With these practices, at least nagkakaroon ako ng control sa emotions ko which can be my number one enemy in my stock market journey.
We are emotional beings and it's not that easy not to be swayed by emotions pero it is something na kailangang imanage and it is a process
Again, sana nagustuhan mo ang ideas na na-i-share ko sa aking mga Getting Better 2021 emails to you.
Watch out for my email tomorrow because I will be sharing a resource that will be useful in your stock market investing journey.
To Your Better Tomorrow,
VIOLETA "To Da Moon" MAINGPIS DEPALOG
P.S.1
If you haven't received my first 4 emails, you can find them on the link below.
P.S.2
Please do NOT buy high-flying stocks if you are NOT yet ready.If hindi ka pa marunong mag interpretng stock chart at gumamit ng mgaindicators, pag-aralan mo munaang mga ito, bago ka bumili ng mga high flying stocks to help you saveyour money from losing.If you are not yet investing in the stock market and you have been reading my Getting Better 2021 emails, I understand that they might be overwhelming for you.But if you are interested, I have some free resources that can help you. Just simple fill in the form below to download this free ebook.
P.S.3 If you are blessed by this post, share the blessing also to your loved ones and friends by sharing this post to them. 
P.S.4 I am inviting you to visit and join us in our Facebook  Group https://www.facebook.com/groups/isavenvestify