Kasasahod Pa Lang Ubos Na. Have you read this book?
The question is, bakit kaya?
When was the last time na nagpang-abot ang sahod mo?
But again, the question is, is there any time that a part of your last month's salary is still intact, untouched before your next salary comes?
Does your purse seem to have a hole that everytime you put money into it, it just disappears?
Or does it seem to have bulate that no matter how often you put money into it, payat pa rin? Malnourished?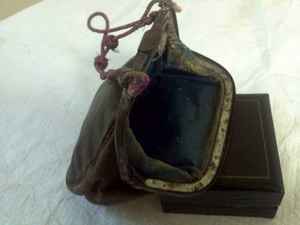 My purse used to be like that. Butas, unhealthy, often empty, BROKEN
But I have practiced to mend it one step at a time killing all the bulates inside, finding all the holes and sewed them up.
It's time for you to mend that broken purse, too.
Below are the 5 tested ways that worked for me.
See if they can work for you, too.
1.Make the decision to start saving and just do it
It's funny when someone asks me, "How to Save?"
Things all begin with a decision to do them. Don't just wish for it, act on it to make it happen.
Saving money also starts with a decision to stop spending up to the last centavo every time you receive your salary.
Money does not discriminate. Money stays with anybody who treasures it.
2.Keep a part of your salary every time you receive it
Decide how much part of your salary are you going to keep every month. Make it a habit to save 5%, 10%, 20% of your salary before spending the rest.
Stop saying, 'paano ako makakasave e kakaunti lang ang sahod ko?'. That's just a lame excuse for not starting to save.
Remember that saving money is not about how much money you receive but it is how much money you keep from what you received.
When Arkad from the Richest Man Of Babylon asked the men in his class about their profession, they revealed that they are from different sectors from different walks of life. When he asked them to save 10% of their money every time they receive their salary,  they start to complain. Then Arkad asked who among them has a lean purse, everyone raised their hands. But Arkad replied, "And yet you do not receive the same ".
Does that make sense?
3.Multiply Your Savings By Investing it to legitimate businesses
Saving money is not enough to fix your broken purse. You have to learn how to let them grow. There are many investment instruments that you can use to multiply your money.
We have the stock market where you can buy shares of companies already listed in the Philippine Stock Exchange.

Just make sure that you know how does a particular investment work. Be guided by the motto: If you don't know what it is, don't do it yet. Learn it first.
4.Do Not Spend The Returns of Your Investment For Your Wants
To fatten your purse in a shorter span of time, re-invest the returns of your investment.
If you are investing in stocks, don't use the gains to buy the latest Apple or Samsung phone.
Use it to buy more shares of companies. Let the children and the grand children of your money work, too.
5.Create More sources of Income That Runs Itself
Running a business while working full time is very draining, physically, mentally, emotionally, spiritually.
But if you have a business that is being automated, meaning it runs on its own while you are working full time, isn't that awesome?
When you start doing these 5 things, I'm certain that your purse will start to look healthy and well.
———
P.S. If you liked this post, please feel free to share it with your friends. In the meantime, I invite you to join our subscription list to download your free e-book, How Can Teachers Start Investing In The Stock Market.  The subscription form is just at the right side of this page. If you are using a mobile phone,  form is located below this post.