Are you wondering whether this is the right time to put your money in the stock market?
May pera ka naman
May pang-initial minimum investment ka na
or perhaps you have even more
Does this mean ready ka na to start?
Motivated and willing ka naman
You read, watched, and heard success stories of stocks investors and is inspired by their journey and success, and now you also want to begin before the desire disappears.
Does this also mean ready ka na to start?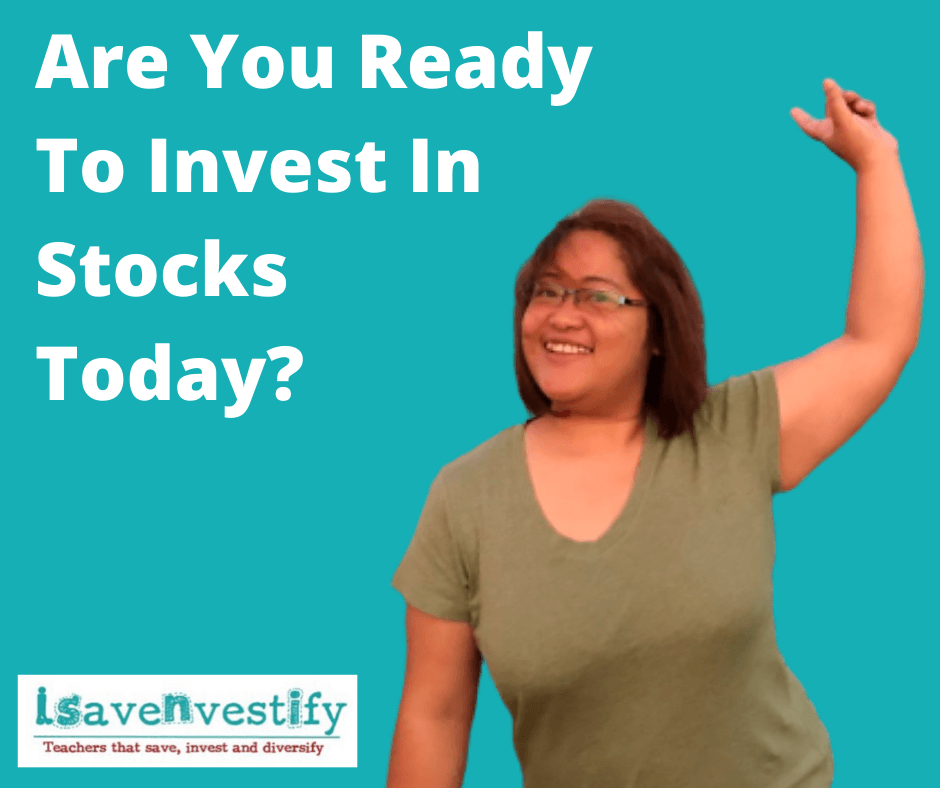 Even if you have money and super inspired and motivated, please do NOT jump off the ship right away without reading these notes.
Tanunging mo muna ang sarili mo…assess yourself
You may ask…
Do I understand how to earn and lose money in the stock market?
Am I aware that right after I buy my first stock, may paper loss na agad ako?
Do I accept the fact that no matter how careful I am, I will still lose money in the stock market?
Do I already have an idea on how to choose my stocks?
Do I know effective strategies in managing my portfolio to minimize my loss and maximize my gains?
If YES lahat ng sagot mo, perhaps ready ka na nga to start.
If NOT, start preparing yourself na maging handa to invest in the stock market.
How To Initially Prepare Yourself
1.Develop the right attitude toward stocks investing
Proper behavior and beliefs about money and making money in the stock market are two important factors that successful investors have.
For instance, patience in waiting for your money to grow because stock market investing is not a sprint, but a marathon.
Hindi yung everytime you see a paper loss in your portfolio, you panic at ibebenta mo na agad thinking that you are cutting your losses and fearing na mauubos na yung capital investment mo.
Or naiinip ka na dahil ISANG BUWAN na ang nakalilipas and yet your investment is not yet growing.
Develop the right beliefs such as investing in the stock market is just like planting rice or a mango tree. A proper mindset that like a plant, money also needs time to grow.

2.Accumulate enough knowledge about stocks
One of the main reasons why many investors lose money in the stock market is the lack of awareness on how to run this business.
It will be a waste of money and hardwork if you invest in stocks without enough knowledge on how to manage it para tuluyang lumago ang perang pinaghirapan mo.
Before we become experts in our own fields like teaching, we first invest our time and money to improve ourselves.
We attended schools, trainings and seminars, many even spend years and thousands of Pesos to finish their masters and PhDs para maging mas marunong sila sa kanilang piniling career.
Investment is not different with that. Kung gusto mong successful ang business or investment na papasukin mo, mag-invest ka rin ng time and money para palaguin mo muna muna ang iyong sarili.
Why?
Because knowledge is potential power.

Why Do We Need These Before We Start Putting Our Money In The Stock Market
Simple…
To protect our money and to protect ourselves.
Protect our money from a potential loss.
And yes, you can lose not just some but all of your capital investment if you don't know what you are doing.
Protect yourself from frustrations and fear.
One of the reasons bakit maraming investors ang umaayaw sa stock market at nawawalan ng confidence sa power ng stock market in growing ones money is they haven't developed the right attitude and failed to accumulate enough knowledge before they invest.
Are you ready to invest in stocks today?
To continue learning about the stock market, you can check this article https://www.isavenvestify.com/stock-market-for-newbies-2/ or get this free eBook My Stock Market Notes at https://www.isavenvestify.com/freesmnotes/
——
P.S.1. If you are blessed by this post, share the blessing also to your loved ones and friends by sharing this post to them. 
P.S.2. I am inviting you to visit and like our Facebook Page www.facebook.com/isavenvestify1/
P.S.3. If you also want to learn how to invest in the stock market, get your FREE ebook that teaches how by filling in the form below