Is the Stock Market Overwhelming To You?
Do you want to start investing in it but so confused by the numbers and stock market jargon?
W
ell, it's time you set aside those worries because I'm assuring you, investing in the stock market is not complicated at all.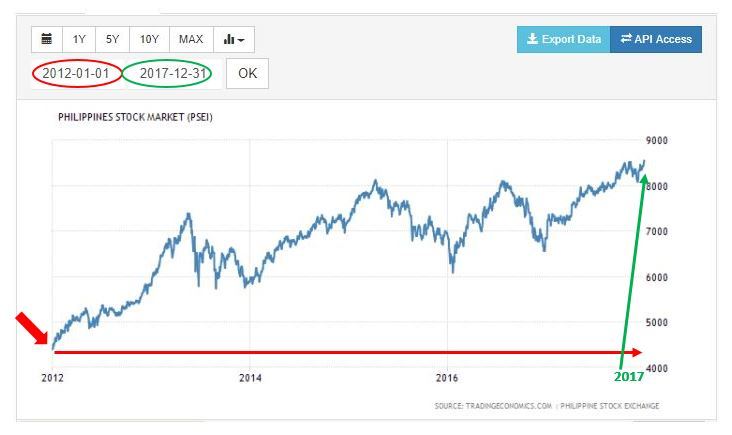 I used to fear the stock market but after continued reading and listening to my mentor, I developed the courage to try it and I'm glad I did.
But before riding into this vehicle of wealth, it is essential to understand what it is.
What Is The Stock Market?
Imagine yourself entering into a sari-sari store. There you find different products for sale. There may be bread, soda, coffee, shampoo and the like.  Then, you decide which one to buy. After choosing, you give your money to the tindera in exchange for the goods.  
The stock market is not much different from a sari-sari store.
In the stock market, see yourself entering into a grocery store. The difference is, this grocery store does not sell bread, nor soda, nor coffee, but it sells COMPANIES.
Well, it's not the whole company but partial ownership of that company.
So, when you go to the stock market to shop, you will choose which company you would like to partially own.  After deciding, you give your money to the company through your broker in exchange for the shares or partial ownership you want to keep.
Example:
You enter into the stock market and you see shares of SM, Ayala, Jollibee, BDO, Meralco and many more companies. You decide which company you would like to share ownership with.
Let's say you will choose Jollibee because this might be your favorite fast food and you know that it is an established company. So, you will buy shares of Jollibee through your stockbroker of choice.
Then, you now become one of the owners of the thousands of Jollibee Corporation which means you will share with both the gains and losses of Jollibee.
What Is A Broker?
Are you familiar with Avon, Sundance, Boardwalk, or Tupperware?
The products of these companies are not directly being sold by the company itself to the customers but through an agent who wants to get a commission from every product that he or she will be able to sell.  
These agents can be compared to stockbrokers. A stockbroker or stock sales agent is the bridge between a company and an investor.
They buy and sell stocks for you and you pay them for their service.  

Why Do companies Sell Shares?
Think of a Turo-turo restaurant owner who wants to upgrade his restaurant.
He wants to renovate his restaurant, add more tables and chairs, add more ulams to sell, and buy new pots, but he does not have enough money to finance the expansion of his business.
 Instead of borrowing money from the Bombay, he convinces his friend, and his classmate to give him some money and they will also become owners of his Turo-turo restaurant business.
Like the Turo-turo restaurant owner, when companies need money for their goals, one of their options to raise capital is to divide the ownership of their business into several shares and sell to interested investors.
 They then use the collected money to fund the development of their company like buying more equipment or buildings or the like.  
How Can someone Earn In The Stock Market?
If you have read my free e-Book on Teacher's guide to Stock Market Investing, I discussed there how you can earn money from it.
First is through dividends. A part-owner of a company shares both with the company's gains and losses.
So, when the company makes profits, the profits will be divided among the shareholders. It may be distributed through cash or additional shares depending on the company's choice.  
Second is through capital gains which is simply done by selling of shares. When a smart investor buys shares from a particular company, he sets a target selling price.
 For example, an investor bought 100 shares of stocks from company X for 10 Pesos a share, he then sets a target selling price of 15 pesos a share for example. So, when the stocks reach his target price of 15 Pesos/share, that's the time for him to sell. So his 1000 Pesos (10 Pesos per share x 100) becomes 1500 Pesos (15 Pesos per share x 100).
The stock market is not so complicated at all. Choose a stockbroker of your choice, choose blue-chip companies (strong companies that will still be in existence after long years), buy shares from them, set an exit strategy and stick to the plan.
Would You Like To Discover My Stock Market Story?