Question:
"Is it still OK to invest in stocks now knowing na bagsak ang economy natin kahit ang US at kahit bagsak ang stock market ngayon?"
Are you thinking of this question as well?
We are in crisis, not just in the Philippines but the world is in crisis due to this COVID-19 pandemic.
Because of that, markets are down. Stock prices start to fall which raises the question, is it still OK to invest in stocks even if there is a crisis, even if stock prices are low.
Before we dig into that question, I want us to step backward for a while and address these questions first.
Bakit nga ba bumagsak ang stocks ngayong pandemic?
What makes the stock price change?
We have seen cheap vegetables being sold at a ridiculously cheap price in the market.
So cheap that the farmers gave up selling them dahil mas lalo pa silang at loss with the additional expenses of transporting their vegetables to the market.
Their reason: There is an oversupply of veggies sa mga palengke.
The same thing happens in the stock market. Balikan natin ang ating high school economics lesson of supply and demand.
If there is more supply but low demand, the price falls.
On the other hand, if there is a fewer supply but high demand, the price rises.
In this time of crisis, there are more people wanting to sell a stock than buying stocks thus creating a greater supply of stocks than the demand.
Kaya, bagsak presyo ang mga stocks.

This leads us to the next questions:
Why are people selling?
Why are there only a few people buying?
Allow me to show you this image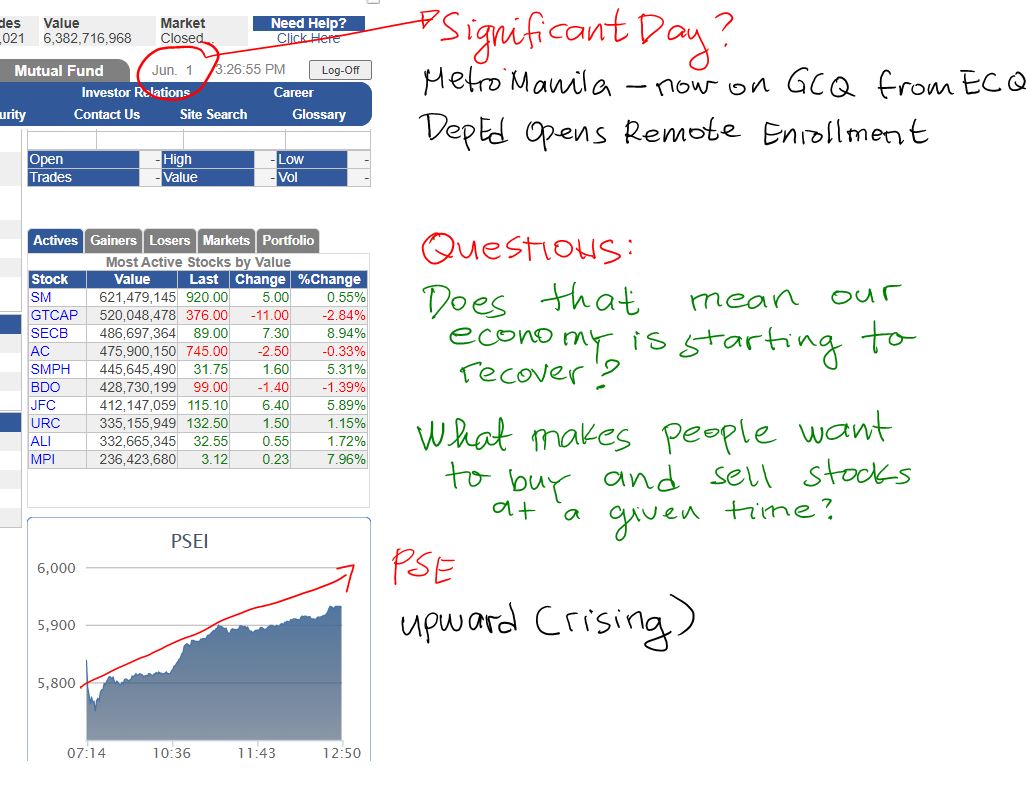 This shows the performance of the PSEi on June 1, 2020.
As seen in the chart, there is a positive movement of the stock prices as the chart rose from below 5800 to above 5900.
It shows that there are now more demands of stocks in the market.
Pero bakit, what makes the people want to buy stocks again?
What makes people buy or sell stocks at a given time or what makes people prefer some stocks over other stocks?
Does this mean the economy is starting to recover? Hmmm…
June 1, 2020.
What is significant on this day?
Sa pagkakaalam ko, this is the first day that Manila is under a General Community Quarantine after more than 2 months of enhanced quarantine.
Pero, so what?
What does this have to do with the changes in stock price?
GCQ means, some workers are now allowed to go back to work, many businesses resume operations. There is a gradual movement now in the country.
This may have a positive impact on investors/traders' sentiments, attitudes, and expectations that influence their decision to buy stocks.
So more people buying stocks, but few people selling stocks will eventually move the stock price higher.
There are countless of factors that change the price of stocks. One of them is the positive or negative news that surrounds us, simply what is going on around us such as the economy, government's decisions and programs, pandemic, natural calamities.
Maliban dyan, what investors feel and know about a company's value, earnings, performance, track record also has great influence sa decision making ng isang investor/trader whether to buy and sell stocks at a given time or prefer to buy another stock over the other.
So, if we put it all together, all the factors that cause the stock price to change, the number of supply and demand, I believe that it is still the sentiments, attitudes, and expectations of the investors/traders that ultimately affect the changes of stock prices.
Kung baga it is the reaction of the investors/traders to given stimuli that changes the stock price.

We are now ready to answer the question;
"Is it still OK to invest in stocks now knowing na bagsak ang economy natin kahit ang US at kahit bagsak ang stock market ngayon?"
We now know what makes the stock price change and what influence the investors' decision in buying and selling stocks.
When this pandemic passes many investors will have positive attitudes towards the market. They will have positive expectations. Therefore, they will be confident to buy stocks again.
What do you think will happen to the stock prices if there will be more demand in the market?
Now, the stocks are cheap. They are on sale.
Can they be cheaper? No one can exactly know.
But what can possibly happen if you buy stocks at cheaper prices now?
That is correct;
Mas maraming stocks ang mabibili ng pera mo dahil mura
When this pandemic passes and many people start buying stocks that will push the stock prices to rise again, mas marami kang stocks na maibebenta at a higher price.
The question is, will you wait for the others to stop fearing before you start investing?
There can be opportunities in crisis but before you jump and start buying stocks, it is important na pag-aralan mo muna ang stock market.
You may continue learning more about stocks by reading My Stock Market Notes that you can download for free.

——
P.S.1. If you are blessed by this post, share the blessing also to your loved ones and friends by sharing this post to them. 
P.S.2. I am inviting you to visit and like our Facebook Page www.facebook.com/isavenvestify1/
P.S.3. If you also want to learn how to invest in the stock market, get your FREE ebook that teaches how by filling in the form below